Descriere
Prezentari Wireless profesionale cu NFC

Extrem de puternic și simplu de folosit, proiectorul pentru business BenQ MX704 transformă ideile excepționale în prezentări eficiente. Construcția sa modernă oferă în liniște o luminozitate de 4000 lumeni împreună cu control simplificat, inclusiv pentru proiecție wireless. Nu trebuie să mai căutați în altă parte o soluție mai inteligentă pentru proiecție profesională.
MX704 cu Wifi Qcast PN: 9H.JEC77.13Z
MX704 fără Wifi Qcast PN: 9H.JCJ77.13E

All-New Intuitive Design, QCast Wireless Streaming, Silent & Bright Performance
Powerfully Bright and Whisper Quiet
Conventional high-brightness projectors make a lot of noise. Not the MX704, which pumps out 4000 lumens of ultra-high brightness with only 31dB of sound, even with full power. Silent and brilliant, your presentation will command the audience's full attention with no distractions.
Smart Design for Natural Command
Every detail of MX704 is optimized for business. One-touch buttons for EcoBlank and QCast on both the remote and the projector make it easy to pause presentations by blanking out the screen or to quickly start wireless Full HD 1080p streaming. And a new control panel keeps all projector controls at your fingertips. The simple plug & play QCast WiFi dongle is even designed to unobtrusively plug into a hidden port, keeping the minimalist design uncluttered.
* Optional QCast WiFi dongle available separately.
High Contrast
A high contrast ratio ensures that every text, image, graph, chart and video is projected with optimal clarity and enhanced sharpness, especially for numerical data. This is for presenters to view their presentation files clearly and the audience to stay focused on the contents projected.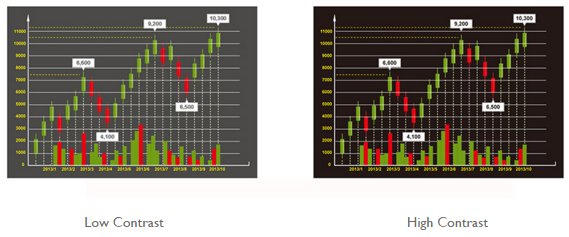 Dual-Axis Tilt Adjustment
All-new MX704 includes dual height-adjustment feet to perfectly align the projector to the screen. Twice as effective as a single foot, the two adjustable feet provide a simple way to set the projector up on a tabletop and start the meeting.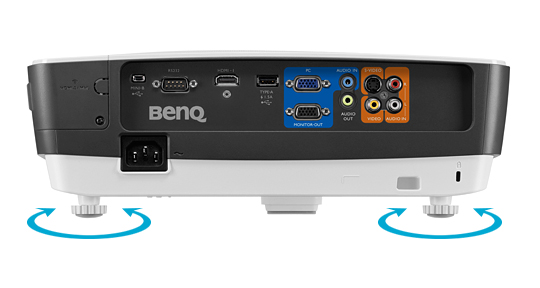 2D Keystone
2D keystone correction enhances installation flexibility by correcting the trapezoid effect via horizontal and vertical adjustments up to +-30 degrees. With it, the projector can be placed off center and the presenter can stand in front of the screen without blocking the image. The projector can also be placed anywhere on a u-shaped tabletop without moving the table or putting a stand in the center.
Corner Fit
Corner fit is a flexible and convenient way to align the picture perfectly by adjusting each corner of an image independently.
MHL Connectivity
With MHL, you can present your business proposals and share your ideas instantly using your Android smart device. Turn small screen into big screen by mirroring documents, photos, videos and any other content in your smart device onto the projection screen. Once connected to the projector, the smart device will be electrically charged so you don't run out of battery power while presenting.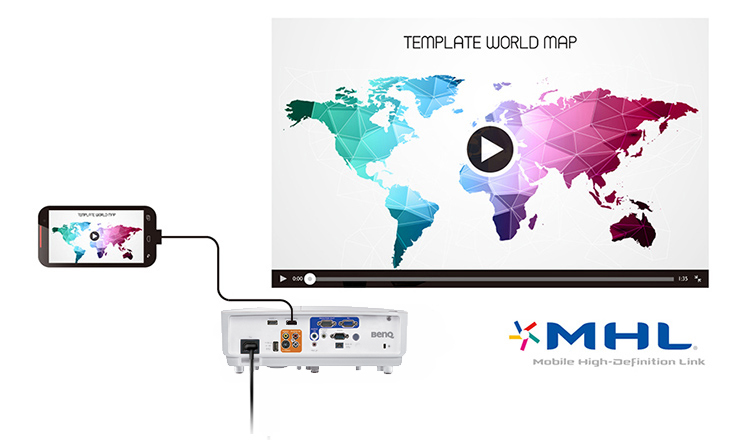 Power saving , Eco friendly

World-Leading SmartEco Technology for a Greener Environment
As the first DLP brand to incorporate Philips' ImageCare technology into its projector lamp system, BenQ has taken a further leap, developing its own SmartEco Technology to perfect what DLP can do for energy saving in the 21st century classroom. Built with this brand new invention, the MX704 brings together uncompromised brightness, exquisite picture quality and optimized lamp life through innovative features.
Eco Blank Mode
The Eco Blank mode allows teachers to blank the projection screen whenever they need to direct their students' focus back on them – or simply when the projector is not in use. When activated, this special feature dims the lamp power automatically, lowering the total power consumption by 70%.

SmartEco Mode
The SmartEco Mode, which cleverly adjusts the lamp power to maximize power saving by delivering the best contrast and brightness performance using only as much light as needed.

No Source Detected Mode
The automatic switch to Eco Blank Mode after the projector is turned on for over three minutes without a display source, eliminating unnecessary energy waste and prolonging the life of the projector lamp.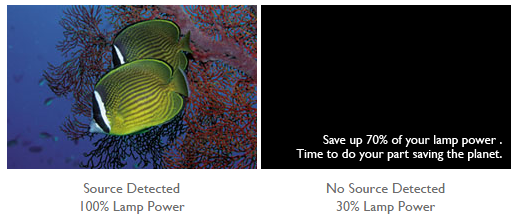 0.5W in Standby Mode
When inactive, the MX704 keeps power consumption to a minimum with <0.5W standby power, achieving what was once a challenge for earlier projector models. This technological advancement in energy saving helps lower energy costs.
Under 6W in Network Standby Mode
With the MX704 under the mode, all it takes is less than 6W to keep the MX704 connected to the network even after it's powered off. IT managers can retain full control over the projector's daily maintenance and repair tasks while saving a significant amount of the earth's energy resources.

Supports Various 3D Formats
BenQ education projectors are standard-equipped with DLP Link™-supported 3D projection to offer students the same amazing 3D effects seen in 3D movies. The 3D formats supported by the MX704 are 3D field-sequential, 3D frame packing, 3D top-and-bottom and 3D side-by-side. Furthermore, this incredible projector can be connected to a Blu-ray DVD player for even more stunning visual quality.

Closed Captioning
Display subtitles in video content without the need for an external closed-captioning device with the MX704. It's perfect for viewing in educational settings such as language classes where a transcript of onscreen dialog is desirable.
Thoughtful Teaching Template Design
To make your teaching job easier, BenQ has added the teaching template function to the MX704. Now, with three different line pattern designs to choose from – Letter Formation, Worksheet and Coordinate Chart, you can easily write or draw on whiteboards as well as blackboards without the need of drawing lines or charts.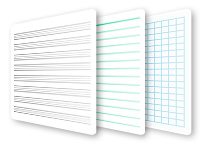 BenQ DLP® Projectors
Perfectly Long Lasting Picture Quality with DLP Projection Technology
Digital Light Processing (DLP), awarded 2015 Academy Award of Merit (Oscar® statuette), is the leading projection technology used in 90% of world's digital cinemas and 100% of IMAX theaters. With DLP dominating the worldwide projector market with over 50% share, BenQ is today the #1 bestselling DLP projector brand, delivering unmatched world-class performance.
Long Lasting
The incredibly durable micro-mirrors of the DMD chip and the nearly-sealed DLP engine design mean that BenQ DLP Projectors stand the test of time without any loss in picture quality. Eliminating dust buildup and heat damage, BenQ projectors shine year after year and look as good as new with a simple lamp change.
Razor-Sharp
Critically acclaimed for industry-leading high contrast, BenQ DLP Projectors also produce the most crisply defined sharpness for crystal-clear details and legible text by maximizing the fill ratio of individual pixels and employing exclusive BenQ SmartEco™ Technology.
Sistem de proiectie

DLP 3D

Rezolutie nativa

XGA (1024x768)

Luminozitate

4000 ANSI Lumeni

Contrast

13000:1

Culori afisate

1.07 miliarde culori

Lentile

F=2.56-2.68, f=22.04-24.14mm

Format imagine

Native 4:3 (5 aspect ratio selectable)

Raport distanta proiectie

1.96-2.15(Wide 78" ±3% @ 3.1m)

Dimensiune imagine (diagonala)

60" - 300" (1.52 - 7.62m)

Zoom

1.1x

Tip lampa (putere)

240W

Lampa (Normal / Economic / SmartEco / LampSave)

3000 / 4000 / 6000 / 7500 ore

7500 ore de utilizare inseamna:

= 3.85 ani (8ore/zi, 5zile/saptamana, 52saptamani/an)

= 5.12 ani (6ore/zi, 5zile/saptamana, 52saptamani/an)

= 7.11 ani (4ore/zi, 5zile/saptamana, 52saptamani/an)

= 12.01 ani (6 ore/zi, 2zile(in weekend)/saptamana, 52 saptamani/an)

Reglaj trapez

2D, Vertical & Horizontal ± 40 degrees; Auto vertical keystone ± 30 degrees

Offset proiectie

Vertical: 120% ±5%

Rezolutii suportate

VGA (640 x 480) to WUXGA_RB (1920 x 1200) *RB = Reduced blanking

Frecventa orizontala

15K-102KHz

Rata scanare verticala

23-120Hz

Interfete

Computer in (D-sub 15pin) x1( integrate with component)

HDMI x2 (HDMI with MHL2.0 x1, HDMI x 1) HDMI x 1)

MHL x 1(HDMI with MHL2.0)

Monitor out x 1

Composite Video in (RCA) x 1

S-Video in x 1

Audio in (Mini Jack) x 1

Audio in (L/R) x1

Audio out (Mini Jack) x 1

Speaker 2W x 1

USB (Type A) x 1 (1.5A power supply)

RS232 (DB-9pin) x 1

IR Receiver x2 (Front+Top)

Dimensiuni (L x I x A)

331.0 x 114.4 x 246.2 (without foot)

331.0 x 129.4 x 246.2 (with foot)

Compatibilitate HDTV

480i, 480p, 576i, 576p, 720p, 1080i, 1080p

Compatibilitate video

NTSC, PAL, SECAM

Greutate

3Kg

Zgomot

31/28 dBA (Normal/Economic mode)

Alimentare

AC100 to 240V, TBD A, 50 to 60 Hz

Consum

350W (Normal), 261W( Eco), Standby <0.5W

Limbile meniurilor afisate pe ecran

Arabic/Bulgarian/ Croatian/ Czech/ Danish/ Dutch/ English/ Finnish/ French/ German/ Greek/ Hindi/ Hungarian/ Italian/ Indonesian/Japanese/ Korean/

Norwegian/ Polish/ Portuguese/ Romanian/ Russian/ Simplified Chinese/

Spanish/ Swedish/ Turkish/ Thai/ TraditionalChinese (28 Languages)

Mod imagine

**Dynamic / Presentation / sRGB / Cinema / (3D) / User 1 / User 2

Functii

Brilliant color

User memory setting

Teaching Template

Presentation timer

Instant restart

Auto Power Off

Quick Cooling

High altitude mode

Freeze / Blank

OPE - SmartEco

Eco Blank

Direct Power On

Quick Auto Search

VGA Signal Power On

Panel Key lock

HDTV Compatible

3D ready(DLP link, PC+Video)

3D (HDMI1.4a)

3D comb filter

3D color management

Digital zoom

Auto keystone (1D)

2D Keystone

Corner Fit

Wall Color Correction

Closed Captioning

Variable audio out

Top-access lamp door

Security Bar

Space for hidden dongle

Accesorii (Standard)

Carry bag

Power Cord (by region)

Remote Control w Battery

VGA cable

User Manual CD

QSG

Lens Cover

Warranty Card (by region)

Video Wifi Streaming Dongle - QCast pentru PN: 9H.JCJ77.13Z

Accesorii (Optionale)

Spare Lamp Kit

Video Wifi Streaming Dongle - QCast

Ceiling mount kit

Carry bag

3D Glasses

Compatibilitate si suport 3D

Frame Sequential: Up to 60Hz 720p

Frame Packing: Up to 24 Hz 1080p

Side by Side: Up to 24Hz 1080p

Top Bottom: Up to 60Hz 1080p

Adaptor Wireless

MX704 cu Wifi Qcast PN: 9H.JEC77.13Z

MX704 fara Wifi Qcast PN: 9H.JCJ77.13E

Garantie

Proiectorul: 36luni

Lampa: 12 luni sau 2000ore (care conditie se indeplineste prima)

Garantia pe teritoriul Romaniei este de tip Pick-up & Return prin apelarea telefonica a BenQ Service Call Center.

08010-23670 (apelabil prin reteaua Romtelecom)

0740.166.808
Specificatii tehnice
General
| | |
| --- | --- |
| 3D Ready | Da |
| Lumeni mod normal | 4000 ANSI |
| Rezolutie nativa | 1024 x 768 pixeli |
| Rezolutie maxima | 1920 x 1200 pixeli |
| Contrast | 13.000:1 |
| Zoom optic | 1.1x |
| Lentile F | 2.56 - 2.68 |
| Distanta focala f | 22.04 - 24.14 mm |
| Numar culori | 1.07 miliarde |
| Putere lampa | 240 W |
| Durata de viata lampa (mod normal) | 3000 ore |
| Durata de viata lampa (mod economic) | 7500 ore |
| Putere consumata maxim | 350 W |
| Marime | Normal |
| Dimensiuni | 331 x 246.2 x 114.4 mm |
| Greutate | 3 Kg |
| Nivel zgomot mod normal | 31 dB |
| Nivel zgomot mod economic | 28 dB |
| Boxe integrate | 1x 2 W |
| Garantie lampa | 12 Luni |
Imagine
| | |
| --- | --- |
| Aspect imagine | 16:10 |
| Marime imagine minim | 152.4 cm |
| Marime imagine maxim | 762 cm |
| Distanta imagine | 196 cm |
| Distanta imagine maxim | 215 cm |
| Rata refresh orizontala | 15 - 102 Hz |
| Rata refresh verticala | 23 - 120 Hz |
| Tehnologie display | DLP |
Conectori
| | |
| --- | --- |
| VGA | 1 |
| HDMI | 1 |
| Monitor Out | 1 |
| RS-232 | 1 |
| S-Video | 1 |
| Composite Video | 1 |
| Audio RCA | 1 |
| Audio Out | 1 |
| Audio Mini Jack | 1 |
| USB type A | 1 |
| USB type B | 1 (Mini) |
| Wi-Fi Ready | Optional |
Livrare si retur
Bucuresti
In tara
Modalitate de plata
Numerar
OP in avans
Numerar
OP in avans
Tipuri de livrare
24 de ore
Gratis
Gratis
6 lei + TVA
Gratis
In aceeasi zi
29.9 LEI
29.9 LEI
-
-
60 minute
49.9 LEI
49.9 LEI
-
-
• suma achitata pentru livrarea in tara cu numerar se achita direct catre firma de curierat
• livrarea in aceeasi zi se face pentru comenzile primite pana in ora 15:00
• livrarea in 60 de minute se face pentru comenzile primite pana in ora 16:00
• termenii de livrare sunt valabili pentru produsele disponibile in stoc
Retur
Cererea de retur se poate face in maxim 30 zile lucratoare de la primirea produsului.
In cazul produselor aflate in garantie, cererea de inlocuire/reparare se poate face pe intreaga durata a garantiei.
• Costul de transport pentru returnarea produsului va fi acoperit de catre expeditor.
• Produsul se returneaza impreuna cu ambalajul original.
• Cererea de retur se face in scris pe mail/fax la contact@dpap.ro/021.777.00.56